Free shipping from 300 € Vat incl. of purchase in Metropolitan France (Chronopost and Colissimo shipping) - For private customers only.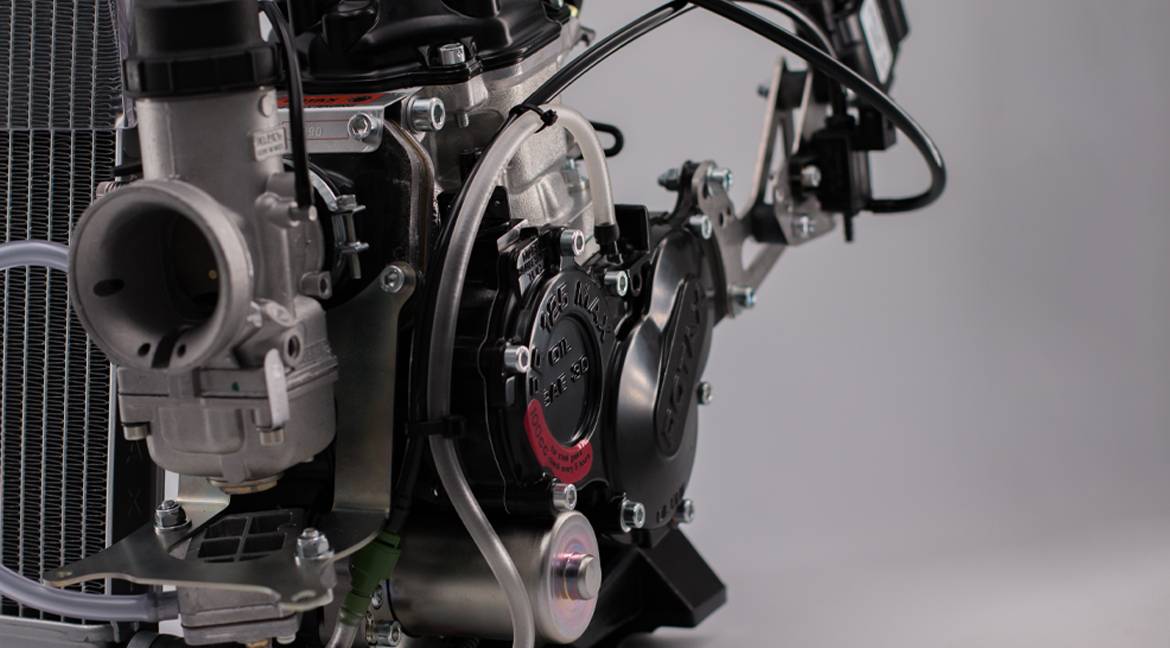 What is the advantage of a Rotax karting engine?
The Rotax max 125 karting engines, of Austrian origin, are recognized for their quality-price ratio, but also for their reliability, their ease of use and their performance.
These engines can be found in various karting races, especially in the Rotax Brand Cup. Discover why the reliability of a Rotax engine is not its only asset!
Rotax engine reliability: its only advantage?
The Rotax Max karting engine will be your best ally to get ahead of your opponents. The reliability of the Rotax engine is unbeatable, and it offers you maximum performance!
A whole range of Rotax karting engines is available according to your driving level and age.
Some advantages of a Rotax engine :
·        - Easy to use
·         - Performance
·         - Reliability
·         - Endurance
·        -  Low cost of ownership
 Add to that easy Rotax engine maintenance through its network of authorized dealers, and you have the winning combo!
Rotax engine maintenance: Easy to do
Rotax engine maintenance is a step that should not be neglected, to keep all the performance and reliability properties of the engine.
Our Rotax engine maintenance tips :
- Cooling system
Before each use, check the liquid level in the radiator and the absence of leakage.
- Transmission
Your transmission (chain/sprocket) must be checked at each use. Its regular cleaning and lubrication will ensure a longer life.
- Battery
Your battery must be charged after each use. Charging the battery regularly will help it last longer.
- Gearbox
Every 2 hours of use, check the oil level in the gearbox, and top it up if necessary.
- Air filter
Your air filter should be serviced every 10 hours of use. If the filter is damaged (torn...), it must be replaced immediately!
- Rotax engine
After 50 hours of use, the engine must be checked and serviced by an authorized professional.
New technology on the cylinders of Rotax karting engines
Rotax karting engines are developed with a new 3D printing technology on different molds. This technology allows a perfect reproducibility of the cylinders, while keeping the advantage of a quality coating.
You can see the reliability of a Rotax engine.
Moreover, the machining of the parts is carried out on numerically controlled machines, and allows to obtain the sporting equity of your go-karts! In other words, this design guarantees the homogeneity of karting engine performance. 
Rotax engine reliability and maintenance: the essential combo
When you install a Rotax engine, you'll enjoy a whole new set of sensations and performances.
But don't forget: to get the most out of it, it is essential to take the best care of it.
Rotax engine maintenance always goes hand in hand with Rotax engine reliability.
Do you need advice? Your ITAKAshop specialist will be happy to answer any questions you may have about kart engines and other parts for your kart!
Product added to the cartx
Product deleted from the cartx